Written by: Bethany Edmunds, Pou Kaupapa. Photography by: Te Rawhitiroa Bosch
'The most exciting aspect of this whole kaupapa is knowing the future of Toi Māori, in all its diversity, is alive and well in Tai Tokerau.
Not only has Tai o Hī Tai o Hā provided skills and experience for these young budding artisans, its methodology of building identity from a Māori perspective provides strength. The simple joy of seeing confidence grow, visual voices expressed and the aspirations of youthful thoughts made a reality is something to be marveled at. The vision and boldness of Toi Ngāpuhi to secure a promising future for the next generation adds a new dimension to the legacies of those who have gone before. Congratulations to all those involved.' BJ Natanahira, ringatoi.

The final wananga for the Tai o Hī Tai o Hā Wānanga Toi Series was integrated with the inaugural Wānanga Toi.
We extended a further call out to ringatoi of Ngāpuhi nui tonu to come together and set up studio to whakawhanaunga, whakawhiti korero, work alongside each other or collaborate, and exchange concepts and ideas. This will lead to strengthening relationships and networks between ngā ringatoi o Ngāpuhi to collectively uplift cultural and creative excellence, and contribute towards the future aspirations of Toi Ngāpuhi.
Te roopu kai karanga ko Moana, Pou Awhi- Atawhai rātou ko Lydia; me te roopu manuhiri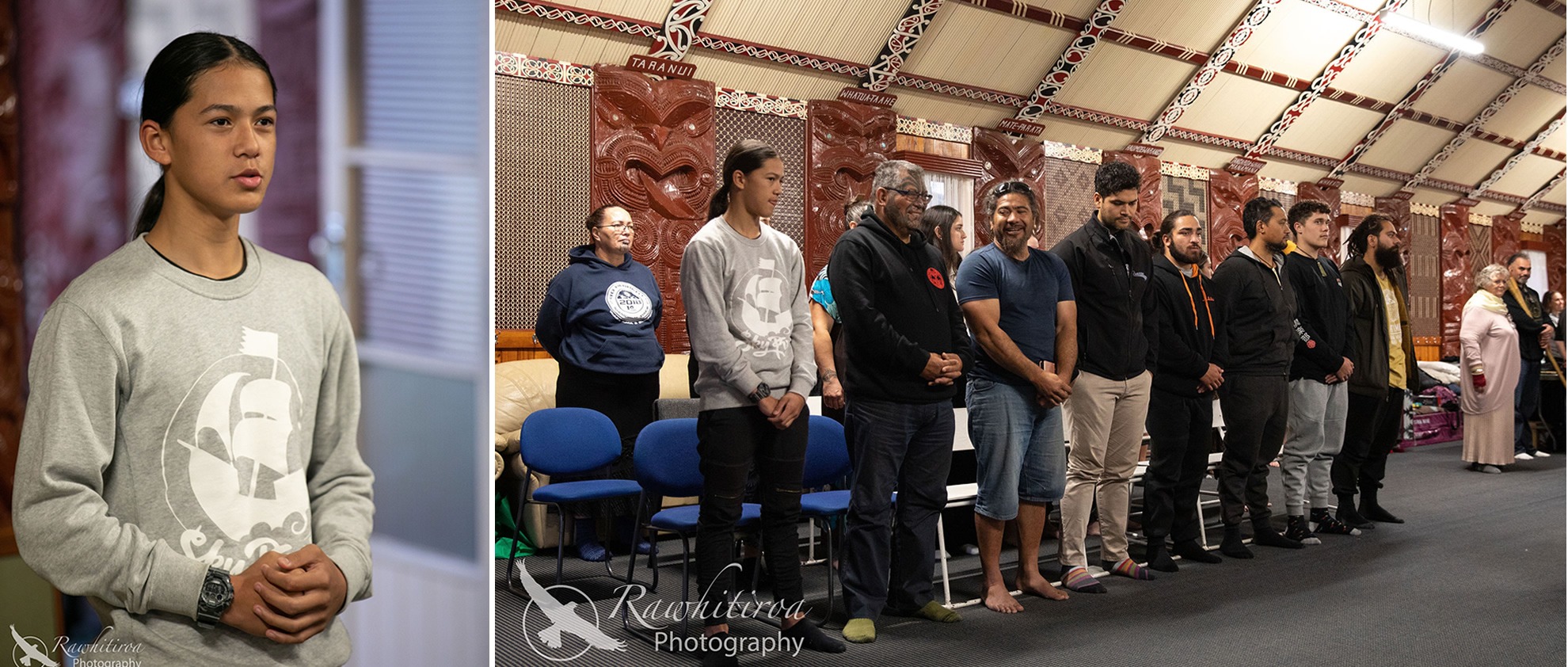 Kai korero Pairama; me ngā mana tane o Tai o Hī Tai o Hā

An important evening within this wananga was the Pō Whakanui.
This was when the whānau of our kāhui taiohi were invited into the beautifully carved wharenui Tūmatauenga, at Ōtiria marae. The reo karanga of our young wahine Moana and Lydia, were supported by the beautiful tones from our Pout Awhi Atawhai. Their calls set the tone for the evening and resonated with aroha, mana and mauri as they welcomed their whānau to join us in celebrating and honouring their achievements and growth through the programme.
Tai o Hī Tai o Hā extended whānau photo
Each of our taiohi were celebrated, and gifted an uku mauri stone.
Each mauri stone was made by our Pou Tautoko Ripeka Toki and ringatoi and Toi Ngāpuhi Board Director Dorothy Waetford, and imprinted with the Toi Ngāpuhi logo carved by our Chair Bernard Makoare. The mauri stones were raku fired onsite during this wananga and their colours revealed as we came together for our final poroporoaki around the firepit.
Uku mauri stones, raku fired and revealed during the poroporoaki

Ngā taonga whakahirahira.
In recognition of Toi Ngāpuhi's aspirations of 'Inspiring excellence in Ngāpuhi cultural and creative expression across Te Taitokerau,' three taonga were given as koha to the kaupapa. All of our taiohi were outstanding and each grew in their own way through this adventure.
With these taonga we wanted to acknowledge those who embodied certain āhuatanga, represented their peers, and will carry these attributes in their journey through life. The intention is that these taonga are imbued with the mauri of Tai o Hī Tai o Hā, and have been given to the following individuals to be the kaitiaki until the next Wānanga Toi Series, when they will be returned to the kaupapa, and gifted to the next cohort.
Taonga whakahirahira recipients: Pounamu Award for Creative Excellence: Ipu uku for Tuakana/Teina- Amelia Blundell and Jojo Edmonds; Pingao Award for Kaitiakitanga- Symphony Morunga; Tohora Award for Leadership- Hori Te Tai.

Pounamu Award: Creative Excellence, Tuakana/ Teina.
In honour of the legacy left to us by uncle Manos and fostered by whaea Dot, and the continued embodiment of tuakana teina relationships, these two uku taonga are gifted to acknowledge the respect and aroha expressed between tuakana and teina within the Kāhui taiohi cohort. These two clay pots went through the whole Tai o Hī Tai o Hā Wānanga Toi Series, from Hokianga to Muriwhenua, then fired in Whāngārei.
Te Hī, me Te Hā, Ipu Uku in Recycled clay na Dorothy Waetford

Intergenerational aroha, respect and acknowledgement between Board members Dorothy Waetford and Kura Te Waru Rewiri; gifted to Amelia and Jojo.

Pingao Award: Kaitiakitanga.
This tukutuku panel was woven collectively by the taiohi cohort, taught by kairaranga Kylie Simeon and completed by kairaranga and Tai o Hī Tai o Hā programme designer Bethany Matai Edmunds. It is infused with mauri and mātauranga from all of the first wave of taiohi and ringatoi who have woven the whariki of this kaupapa together. It acknowledges one of our taiohi who shows passion, aroha and commitment to growing and evolving their craft, paying constant homage to Papatūānuku and the taiao and our connections as ringatoi to the limitless resources that are available in our natural environment. This taiohi is generous and caring and brings joy to the creative process.
Ngā Tae i tuku, Pīngao, Kiekie, Tānekaha Dye, na Te Kāhui o Tai o Hī Tai o Hā

Symphony; acknowledged for her aroha, generosity and exploration of uku, paruparu me ngā tae o Papatūānuku.

Tohora Award: Leadership Excellence.
This Rei Puta is carved in tohora bone by Toi Ngāpuhi Chairman Bernard Makoare. It is his vision that is the kōkiri putahi of Toi Ngāpuhi, he comes from a lineage of whakairo that began for him at an early age, and his talent is now recognised and celebrated. The rei puta is adorned with waewae tupuna and is a symbol of leadership: It honours an individual who is humble, confident and generous, whose talents are obvious and draw on their inherent creativity and demonstrated mana, a creative leader walking in the footsteps of their tupuna.
Bernard adorning Hori with the rei puta and honouring his humble and embodied leadership qualities

Each of our taiohi went through their own process of transformational change.
If Toi Ngāpuhi is to truly foster cultural and creative excellence over the next 25 years, as set out in the Piki Tū Rangitia Arts Strategy, then there is clearly a reciprocal need between Toi Ngāpuhi and Ngāpuhi youth. Our youth need creative opportunities to engage with, and ngā Toi o Ngāpuhi require a new generation of artists to be fostered and mentored to ensure the transmission of mātauranga and the ongoing survival of our tikanga based art forms; and therefore a legacy of growth and excellence in the cultural and creative landscape of Ngāpuhi nui tonu.

'This year I was lucky enough to be a part of Toi Ngāpuhi's Tai o Hī Tai o Hā Wānanga Toi series - Tai o Hī Tai o Hā Wānanga Toi Series.
Now I understand better how our mahi toi and toi Māori helps us to come together and be proud of our differences but at the same time it allows us to find, build, and celebrate our connections with people and places.'
The lasting feeling that I have after this experience is that there is so much joy available to us in our whakapapa and our connections with people and places.
As some of you will know I am pretty keen for constitutional transformation here in Aotearoa based on He Whakaputanga, but until this experience I had never really been able to feel what that sort of change could or should look like. Amelia Blundell
Final acknowledgements of the wananga went to the roopu Pou Tautoko
This group of practising creatives were instrumental in the success of this first delivery of the Tai o Hī Tai o Hā Wānanga Toi series. Through their passion, dedication and vision of the possibilities of what this kaupapa can create for our taiohi and for our people on a whole, the roopu Pou Tautoko brought their kete mātauranga into the space and shared joy, skills and kai with us.
E kore e mimiti ngā kupu aroha ki enei tangata tokoono, ko Ripeka Toki, ko Wiremu Sarich, ko Kawiti Waetford, ko Anaru Cook, ko Makareta Jahnke, rātou ko Dorothy Waetford. E hara taku toa i te toa taki tahi, engari he toa taki tini.
Each of our pou were gifted a tupu rakau from Te Kona in Kaikohe. They were specially selected for them by Bexx (Ripeka) to symbolise their individual ahuatanga

'I really enjoyed my time with the up-and-coming leaders of tomorrow they are so so lucky to have the greatest role models who have taught them well I praise you all for the wonderful effort you all have put together to make the learning of their mahi a success.' Betsy Young
So, What's next?
Building on their unique wawata and aspirations for an inspired future, we are committed to fostering opportunities for our Kāhui taiohi to continue to navigate a creative pathway of success. We are currently designing masterclasses and internships for all of them, and connecting them with an abundance of networks and kaupapa toi across te Taitokerau. This will roll out over 2022 as we reflect on the learnings from Tai o Hī Tai o Hā 2021 and continue to drive our waka forward to the second intake in 2023.
Strengthening relationships between ringatoi and taiohi is key to our success moving forward. Lydia, Te Awa and Hori having a jam with Taonga Puoro ringatoi Horomono Horo at the end of the Pō Whakanui.

'I te timatanga o Taiohi, kua hoki mai au ki Aotearoa mai Los Angeles. Nōku waewae tapu i haere ki te wānanga tuatahi. Arā, kāhore anō au kia haere ki tētahi wānanga, ki tētahi marae, Kāhore anō au kia tino mōhio i tōku Māoritanga, Ngāpuhitanga hoki. Ahakoa he manu hou ahau, i tūtaki au i ōku whanaunga, i ngā taiohi, i ngā ringatoi, i ngā kaiwhakaohooho. Nā rātou i awhi au i te aroha. Mā ō rātou mātauranga, Ka puta au i te Ao Māori. Ā, tetahi ao ataahua hoki!
I've learned immensely from Ngāpuhi ringatoi. Whether it was our unique kupu and tikanga, or the rauemi themselves that live on our whenua, I have gained an understanding of our Ngāpuhitanga in toi Māori. I'm inspired by the artists that generously shared their practices with us, they have shown me what it means to be a Ngāpuhi ringatoi.' Zoe Moana Murray
Moana sits with her proud koro, James Murray.

If you are a young creative leader no te Taitokerau (or know someone), and you're keen to jump onboard our next intake for 2023, please get in touch now so we can let you know when the registrations open!
Email: info@toingapuhi.co.nz with your name and contact details
Tai o hī, Tai o hā. Ka timu te tai, ka pari te tai. Ko te taiohi auaha o Te Taitokerau, kei uta!
Arohanui
B